Reviews
This product is AMAZING! Now i cut it straight every time and don't have to worry about him having a crooked neck line or cutting it super short to try to get it straight!

Emily B., Milwaukee, WI
This lets my son shave his neck himself. I bought it for him because he accidentally shaved his neck way too high and he looked very weird. This solved the problem.

Lori G., Canton, OH
WOW! Whodathunkit? A piece of rubber, in the shape of a man's neckline = saving money & keeping my hairline trimmed.

Larry K., New York, NY
Tried others, this one best.

Errol F., Oakland, CA
Heavy silicone stays in place and makes a great guide for neat lines, especially with doing it yourself.

Jerry K., Henderson, NV
Works like a charm. I am now able to make my husband's hair look like it was done by a professional!

Dawn F., Sacramento, CA
I've always cut my hair since I was in high school and have always needed some assistance making the back look straight. This has solved that once and for all.

Patrick G., White Plains, NY
This device really cut down the time it took to cut my hair and trim the beard, and it never looked better. HIGHLY RECOMMENDED

Scott S., Miami, FL.
Finally found a way to cut my own hairline at the neck with clean and professional results. Already paid for itself.

Jason F., Troy, MI
Why Choose EDGUP
The Perfect Line Every Time
Finally, achieve the perfect line every time - without having to visit the barber every time your hair starts growing back. Truly the best hands-free neckline trimmer on the market.
Easy-to-Use
Edgup is durable and will withstand your razor or trimmer, and is adjustable to fit any size head. So you can shave or trim with confidence, knowing that you'll always get a clean, precise line.
Save Time and Money
Edgup is an investment that will save you time and money in the long run. No more costly trips to the barber, shave your own neckbeard in minutes flawlessly with confidence!
Eliminate Mistakes
The Edgup trimmer is a great tool for anyone looking to eliminate mistakes when it comes to grooming their neckline. The Edgup is adjustable and fits any size head, so you can be sure that you're getting a precise, clean line every time. Save time and money by investing in the Edgup today!
Look Better Longer!
Looking for a way to keep your neckline looking sharp between trips to the barber?
Look no further than the Edgup trimmer. With its unique design and adjustable fit, the Edgup is perfect for anyone who wants a clean, sharp neckline.
So why wait? Invest in an Edgup today and start enjoying the benefits of a flawless neckline.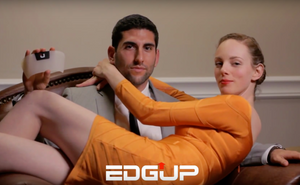 In Conclusion
The Edgup neckline shaving guide is a no-brainer for anyone struggling to get a clean line around their neck. With this easy-to-use guide, you can achieve the perfect line every time - without having to worry about razor burn, vertical or horizontal lines, line up your neckline with your adam's apple and say goodbye to high fades and mistakes.
More and more men are trimming their chest hair, facial hair, and neckbeard like never before. Join the Edgup Neckline Shaving Guide movement and RID the world of Neck Hair 2025!
It's the Neck's Big Thing!